Abator Services & Products
With our CEO's roots in early contract programming, Abator's original focus was staff augmentation and deliverables-based consulting in large government or commercial IT environments. Abator's deep resources offer on-demand expertise for: data-centric n-tier applications development and support; database administration and architecture; systems engineering and support (Unix, z/OS, Solaris, Windows, etc.); mobile app/web development and enablement of legacy data. For virtually any IT project need, Abator is able to identify the right person at the right price to fulfill our clients' objective. We provide 24 to 48 hour response time, submitting qualified candidates willing to undertake the assignment as described, at an agreed upon rate in the specified location for the expected duration or deliverable.
Abator, armed with the CitizenDeveloper Platform, helps clients transform their programs, execute more effectively, and protect their assets. These combined talents help our client business units become more agile in an ever-changing environment, whether modernizing legacy applications, developing new solutions or deploying commercially available applications.
Building on the CitizenDeveloper platform Abator is able to rapidly develop ultra-secure apps at 1/3 of the typical cost with 100% US resources. Backed by industry leading SLAs guaranteeing Availability, Security, and Performance, applications deployed on the CitizenDeveloper Platform are the future.
Abator's Lolopop PMO project management tools combines the themes of Technology, Communication, and Management, practiced in a professional manner with due consideration of cost, reliability, suitability, ethical factors, and social consequences.
 Technology: The "theory in practice" issues of specifying and implementing systems and applications.
 Communication: The clear and precise communication of ideas among people.
 Management: Organizing activities and people to accomplish the project.
Abator clients may make use of our Lolopop project methodology. Used internally for all Abator development efforts and in support of select clients, Lolopop PMO features the best practices found in PMBOK, CMMI, Agile and RUP processes. Lolopop uses defined, prioritized metrics for measurement, analysis and continuous improvement of the management and development processes. Metrics are gathered and reported for evaluation of both technology and processes.
Lolopop Business Intelligence Tools: Gather, report and analyze disparate data with a Source of Authority for each data element. Lolopop BIO Tools integrates all essential data warehouse functions. BIO Tools is able to acquire, clean, qualify, process, exchange, relate, store and report data collected from many sources. Lolopop is especially useful to organizations that must formulate, support, and monitor policy and procedure to solve critical challenges where quality of data must be guaranteed to a certain level and confidence in outcomes must be measurable and favorable ... particularly in environments which must respond to frequent business, legislative or regulatory reporting requirements.
Abator has developed a distinctive web-based service for diverse business owners. The Turbo Tax-like portal guides clients through the process to obtain and maintain fact-based diversity certifications. The service supports and assists in expanding opportunities for our customers' pursuit of public and private procurements that require participation by minorities, veterans and women entrepreneurs. These services include: GetDiversityCertified.com.
Am I Certifiable?
From acronym definition to what's in it for my business and the strategy behind choosing the best certifying agency for your business, this seminar will answer most, if not all of your questions.
Contact Marian Neilson for details about scheduling or attending sessions.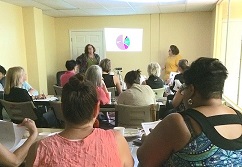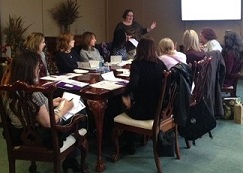 Recent Mansmann Foundation workshop in Abator's conference room discussing federal diverse spending goals.
Certification Boot Camp
Hands-on half-day workshop designed to help SDMWVLGBTBE (Small, Disadvantaged or Disabled, Minority, Women, Veteran, Lesbian, Gay, Bisexual or Transgendered Business Enterprise) entrepreneurs with certification application and document issues. Content is presented by certification experts and covers elements of the certification process, including: strategies; actual application forms; governing document review; and, mock site visits.
Contact Marian Neilson for details about scheduling or attending sessions.
Business Dating
A 90 minute workshop designed to demystify commercial or government requests for proposals. The highly interactive session covers essential terminology, and an in depth introduction to strategic request reviews in making a bid/no bid decision.
Contact Marian Neilson for details about scheduling or attending sessions.
Advanced RFP Boot Camp
Hands-on half-day workshop designed to help business owners develop customized review criteria and processes in preparing responses. Content material covers: bid/no bid strategies; solicitation review processes; statements of work (SOW); terms and conditions (T&Cs); partnering for diversity goals; boilerplate development; best and final offers (BAFOs); contract negotiations; and, debriefs.
Contact Marian Neilson for details about scheduling or attending sessions.