Diverse Business D&I (Diversity & Inclusion)
Abator is proud to be a certified small, women-owned and operated company and of our strategic alliances with other SDMWVLGBTBEs (Small, Disadvantaged or Disabled, Minority, Women, Veteran, Lesbian, Gay, Bisexual or Transgendered Business Enterprises). Don't be confused by words, in IT small is defined as having three year average sales at just under $30 million -- by the US Small Business Administration.
As we wrote in April 2015, we believe that being involved in the SDMWVLGBTBE community should mean more than taking advantage of opportunities. We've often written about walking the walk, creating our own opportunities for and supporting other SDMWVLGBTBE businesses. Climbing up on our soapbox yet again, we believe that members of the SDMWVLGBTBE community should support other members when looking to engage project partners or establish new procurement resources. We expect our potential clients to "walk the walk" to engage with us. It only seems fair that we join them in this walk.
We're not a large government agency or huge corporation; however we do have a Supplier Diversity program. We aren't required to have one, and we're not required to have a D&I policy in our human resources/project staffing group. But, we have both, because we believe it is the right thing to do for our customers, our suppliers, our community and our business. Through D&I we learn from others with differing life experiences and expand our capabilities exponentially. We purposefully establish relationships with local or regional diverse partners in the areas where we conduct business, and include them in our proposals. With these partners, Abator may offer 100% MWBE participation on client projects.
We talk ... a lot! To anyone who wants to know about supplier diversity, the various certifications available and how an SDMWVLGBT Business Enterprise owner can explore certification strategies to benefit their businesses, their customers and the SDMWVLGBTBE Community.
Abator staff routinely volunteers in community development efforts, like Pittsburgh's Diversity Business Resource Center or at events like WBENC's Philadelphia Regional Partner Organization (RPO), WBEC East. We've sponsored Disability:IN, WBENC and WBEC events, too.
And, we blog about issues SDMWVLGBT Business Enterprise owners face, particularly certification, diversity and contracting topics. the blog is associated with our GetDiversityCertified.com offering. Here's where you can find our monthly posts.
When we first got certified, it was a simpler time, much more simple -- a single page and very little documentation comprised our initial application for Illinois CMS' Female Business Enterprise (FBE) certification. The last triennial submission looked like this: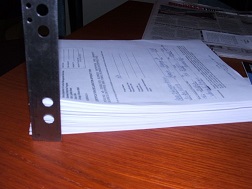 The SDMWVLGBTBE certification can be overwhelming, especially for smaller business (who could benefit tremendously). They have an entrepreneurial dream which rarely includes learning how to deal with bureaucratic forms and processes far outside their primary business day. We know, because we were them in the 1990s. But, we're also IT folks, so we developed internal systems to support our certification application process. This has become GetDiversityCertified.com. If you're unfamiliar with the hoops a business jumps through to acquire and maintain certification, the FAQS page and our blog is full of information.
Through various business development centers, Abator provides training in diversity certification and proposal preparation. Course descriptions and information can be found on our services page.
At WBENC 2016, we attended STEP – Supplier Training & Empowerment Program – offered by Coca Cola and delivered by Becky A. Davis. She quoted Bob Burg, "Your true worth is determined by how much more you give in value than you take in payment." We need to make a difference in our communities and Ms. Davis challenged us to answer "Who are you serving/advocating/volunteering for"?
At Abator, we volunteer with: the Wilkinsburg Community Development Corporation, Chatham University, the Diversity Business Resource Center, and WBENC/WBEC among others.